What Are Store Owners Saying About Xplorer Maps?
Carissa Brown - Business Manager
We have been doing business with XPLORER MAPS since 2018; growing the line each and every year since. Their hand-drawn Alaska map and accompanying products have done extremely well for us over the years and the line just keeps growing in popularity with our customers. We recently purchased a beautiful floor display from them and that really helped to increase sales across the line including the best-selling blankets, puzzles, mugs, shots and totes. Their customer service is excellent and they guarantee all of their products against damage or any other shipping issues. The turnaround times are excellent and we're excited to see "what's next" for 2023.
Xplorer Maps has been instrumental in expanding our Sanibel & Captiva Islands product selection with their unique and high-quality hand-drawn map products. We have grown our line as their offerings have expanded and are doing exceptionally well with the entire line, but the new puzzles, blankets, and totes have really taken off and now are "best-sellers" in our store.
We picked up the Xplorer Maps line this year at the Atlanta Gift Show. The Alaska blankets and Canvas tote bags have done extremely well for us this year. We worked closely with their team to minimize our freight costs and it worked out really well. They deliver a great product in a timely manner. We look forward to seeing their new line-up of products in 2023.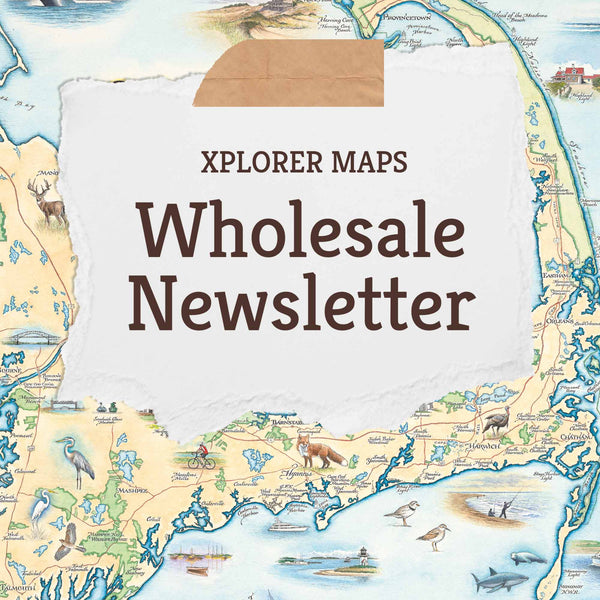 Wholesale Newsletter
What has XM been doing, you ask?
Read our blogs and sign up for our newsletter to be the first to know.
Free Shipping Contest
Each month XM will offer FREE SHIPPING to one lucky wholesale account. Click below for details!